Biographies of people nominated
Forest entities with fewer than 1,000 ha net stocked area
Forest entities with more than 1,000 ha net stocked area
Forest entities with fewer than 1,000 ha net stocked area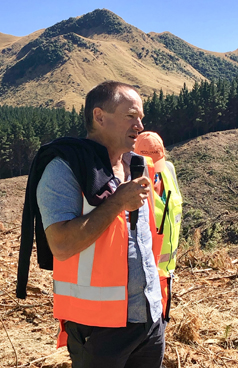 Bert Hughes
I am CEO and Forestry Director at Forest Enterprises Growth Limited (FEG). I am also a shareholder in FEG. FEG's subsidiary, Forest Enterprises Limited (FEL) is a licensed Managed Investment Scheme manager offering investment in forests. FEG manages over 65 forests comprising 32,000 hectares for investors. FEL represents over 6,500 essentially small forest owners. FEG harvests about a million tonnes of logs and replants more than 1,500 hectares pa.
I am a Registered Forester with the NZ Institute of Forestry and a Chartered Member of the NZ Institute of Directors. I have the NZCF (Ranger Training) and a BBS (Massey).
FEG is a member of the Farm Forestry Association, the Forest Industry Contractors Association, and several Wood Councils.
I grew up on a farm and worked in the woods since 1983. I still operate our small family forest with several alternative timber species. My experience includes:
Five years NZFS graduating as Forest Ranger.
Logger and Silviculture worker
Log marshalling at various ports.
Nelson Regional Manager of a large forestry company
Co-owner, founder of an SME forestry company
At FEG - company strategy, valuation and reporting, forestry business, marketing of the million tonnes produced annually.
I would ensure the Levy Funding is directed to the most effective use of our funds. Strength in the forest industry is key to lifting utilisation in forest products which leads to delivering social, environmental and economic benefits to society and stakeholders. The use of levy funding is an important tool to achieve that.
Back to top
Ian Jackson
Ian Jackson is a farmer from South Canterbury where he farms a 295ha family farm. The farming enterprise is made up of a sheep flock, bull beef operation and various woodlots.
I graduated from Lincoln University in 1977 with a Bachelor of Agricultural Science after which I worked in agrichemical research and development work, in New Zealand and the USA.
I have been farming since 1983 during which time I have been an active member of the New Zealand Farm Forestry Association. I served 3 years as National President of the Farm Forestry Association, from which I stepped down in April 2015.
I have been one of the two small scale grower representatives on the Forest Growers Levy Board for the past 8 years. I was involved in the instigation and the organisation of the levy referendum and its smooth establishment from the beginning. I was also involved in the establishment of the Forest Industries Safety Council, which I sat on for 3 years. I understand the issues and know the people involved in the industry. I am well placed to continue to represent the interests of the small scale grower.
If elected I am likely to be the only famer on the Board, as it is on farmland any expansion of the forest estate will occur. I am an integral part of the wider rural community and understand the sensitivities of trees on farmland and the impact on rural communities. Integration with trees is the key.
Back to top
Graham George West
Graham is the current National President of NZ Farm Forestry association and chairman of the Forest Growers Levy Trust Small and Medium Enterprise Committee. He has a Master of Forestry Science degree from Canterbury and has had 48 years' experience in forestry science at Scion, particularly in forest management systems, forest economics, strategic value chain management, and land use optimisation.
His senior corporate roles have been as a Software Business Unit Leader, Science Program Leader, and Principal Technologist. He has considerable experience with the broader forestry sector and has been a member of NZFFA and NZIF for more than 20 years.
As a registered forestry consultant, he runs a consultancy business that covers land use projects, financial modelling, and forest management options. He is a director of ForestX, a forestry transactional business. At home he runs a small farm with livestock, production forestry, and 10 ha of retired indigenous forest.
Throughout his career, Graham has been passionate about the role forestry can play to enhance New Zealand's economic and environmental performance. For the last three years he has been instrumental in the BOP Forest and Wood Action Group and associated initiatives to develop a higher profile for the sector. He is active in writing articles and giving presentations on the benefits of forestry. Graham has served as Chairman for the BOP Farm Forestry branch since March 2018. Since May 2019 he has been a member of the Farm Forestry National Executive and is active in the improvement and promotion of the organisation. Recently, he has been instrumental in the establishment of the CNI Wood Council and serves on the committee.
Graham is a strong advocate for the Forest Growers Levy but believes funds can be better spent to benefit levy payers and improve the performance of the wood sector. He will endeavour to use his political, technical, and commercial skills to achieve that.
Back to top
Glenn Williams,
CMInstD, MNZIM
Experienced Director, Business Leader and Fire & Emergency NZ Chief Fire Officer
A track record of success in establishing and leading profitable businesses
An active member of NZ Institute of Management and Chartered Member NZ Institute of Directors
I am interested to offer my governance and business experience to the FGLT Board.
I am a Chartered Director with over 30 years business experience and I am a Director of a company which has established, owned and operated over 40 hectares of pinus radiata forest on the East Coast between Gisborne and Wairoa. We planted the forest in 1992 and the forest was harvested in 2017 and replanted in 2018.
I have most recently been an Integration Advisor to Fire and Emergency NZ. I have also been nominated to become a Justice of the Peace by my local MP.
Early career involved several years working in local government as a senior environmental health officer and Principal Rural Fire Officer.
Have been a volunteer firefighter in the NZ Fire Service since 1981. Progressed through NZ Fire Service to become Chief Fire Officer for the Te Puke Fire Brigade in 2006 and still hold this position. Involved since early 2017 in Safety Health & Wellbeing Workstream developing strategies for the new Fire and Emergency NZ organization. For twenty five years I was involved in establishing, directing and managing a range of retail and forestry businesses, including a franchise operation, that experienced significant growth and success. Some taken from startup to annual sales of $2.5m. In 2011 I was appointed Director of the United Fire Brigade Association and in 2014 was recognised as a finalist in the Bay of Plenty Aspiring Director Awards. Director, since 1992, in the family forestry investment company
Achieved Chartered Membership of the Institute of Directors in 2016
A highly respected leader now looking to make a contribution as a Director of government or commercial organisations
Back to top
Forest entities with more than 1,000 ha net stocked area
Don Aurik
I have recently joined OneFortyOne in Nelson as the Research and Technology Manager. For the past 17 years, I worked in Tasmania, Australia for Timberlands Pacific and Rayonier leading a small team in tree crop management, research and compliance. Prior to Tasmania for 20 years, I gained valuable experience and knowledge in the Canterbury, Otago and Southland forests in various management roles including sales, harvesting, estate modelling, certification, and fire. I have recently served as a director on the board of Tree Breeding Australia (TBA), a technical representative for the Radiata Pine Breeding Co (RPBC) and several national and state collaborative research project steering committees in Australia. I graduated as a Forest Ranger in the 1980s with certificates in Forestry and Forest Health Protection. My skills and experience include: governance; business development and planning; innovation; project management; contractor operations management; and safety and environmental compliance.
Back to top
Ryan Cavanagh
Ryan is the CEO of Timberlands Limited and manages the 200,000ha Kaingaroa estate in the Central North Island of New Zealand. Ryan joined Timberlands in mid 2020 firstly as Managing Director and then shortly after as CEO. Whilst Ryan is relatively new to the Forestry sector he has deep experience in heavy industry, leadership, health & safety, strategic planning, operational execution and building high performing teams. Ryan previously spent 17 years working with Rio Tinto in UK, Africa, Australia and New Zealand and was the General Manager and CE of the Tiwai Point Aluminium smelter in Southland. Prior to Timberlands Ryan worked for McKinsey & Company to help drive their transformation programme in New Zealand, Australia and SE Asia and working with clients in agriculture, genetics, fast moving consumer goods, electricity generation and mining helping them create value whilst building stronger and more capable teams. When not in lockdown Ryan lives with his wife and 3 daughters in Auckland but spends most working weekdays living in Rotorua. Ryan has a PhD and BEng in Chemical Engineering from the University of Birmingham in the UK. If elected Ryan looks forward to the opportunity of working more closely with the NZ Forestry Growers to ensure we work together to build an even stronger and more resilient forest industry.
Back to top
Peter Clark
Peter Clark resigned from the role of CEO of PF Olsen Ltd that he held for nearly 20 years in September 2018. He is now working part time for Te Uru Rākau – NZ Forest Service and as a consultant to a number of private organisations on forest industry matters.
Clark's 40-year background in the forest industry includes forest operations and consulting assignments in SE Asia, China and the Pacific.
Clark holds an honours degree in Forestry Science from the University of Canterbury and is a Registered Member and Fellow of the New Zealand Institute of Forestry. He has recently held positions as President of the NZ Forest Owners Association and on the Board of the Wood Council of NZ. He served on the Steering Group of the Business Leaders' Health and Safety Forum from its formation in 2010 until October 2015. He also gained valuable knowledge of NZ primary sector trade representing the forest industry as a Board member of the International Business Forum (2008 – 2016) and NZ China Council (2013 – 2016).
Board positions currently or recently held include Independent Chair 1 Billion Trees Advisory Panel, Independent Chair Mid-Rise Wood Construction Programme and Member Project Governance Group Ngati Porou Forestry Project. He is currently assisting with the Forest Growers Research led Special Species review.
Clark has organised and administered 3 forestry investment partnerships during his career and been the coordinator of their administration, establishment, and eventual harvesting. He brings governance experience and a practical background in both large and small scale forestry to FGLT deliberations.
Back to top
Robert Green
Robert Green, is Managing Director, Australasia Timberland Operations, for the Hancock Natural Resources Group. In this role he is responsible for operational management oversight of investor-owned timberlands in New Zealand and Australia, covering a combined area of 750,000 hectares. Prior to joining HNRG in 2021, Robert served as the CEO of Kaingaroa Timberlands (KT), a 200,000ha softwood plantation located in New Zealand's Central North Island. Before KT, Robert served as the director of sales, contracts, and planning and ultimately as the CEO for VicForests, a state-owned business in Victoria, Australia. Robert also has experience working and living in the United States when employed as a general manager at Snavely Forest Products. He spent his early career at Carter Holt Harvey and Thames Timber. Robert holds the Tertiary degree of Bachelor of Commerce (Honours), Economics, University of Otago, New Zealand, is a member of the Institute of Directors New Zealand, and has served as a Member of the Board Finance Committee at the Royal Childrens Hospital in Victoria, Australia. Robert is currently serving on the Board of the NZ Forest Levy Trust, and is a former member of the Executive Council of the NZ Forest Owners Association.
Back to top
Neil Woods
Neil Woods is the CEO of Aratu Forests Limited based in te Tairawhiti a position he has held since January 2021. Neil has had a varied experience across the forestry sector since joining the NZ Forest Service (Forest Research Institute) in 1982 as a Technician before commencing study for Forestry Science at Canterbury University graduating in 1988. Career movements since then including operational roles with NZ Forest Products/CHH in Kinleith and Northern region, a period consulting with Jaakko Pöyry on both NZ and offshore consulting assignments. Neil also spent 4 years contracting to Ferrier Hodgson during the CNIFP receivership and was project leader for developing and implementing the business plan to setup what is now Timberlands. More recently he was Portfolio Manager for the NZ Super Fund's international Timber and Agriculture Investments, portfolios valued at around NZD3bn including being a director of Kaingaroa Timberlands, and several agriculture investment vehicles.
This extensive and varied background provides Neil with a strong understanding of operational activities but also an acute awareness of the benefit of R&D and strong governance and also the changing requirements of society and Institutional investors. He can provide a unique perspective to contribute to the FGLT as it looks to allocate funds for the benefit of the industry now and into the future.
Back to top